You are here: /main/video/daily nowramp reports/
Daily NOW-RAMP Video Report:
Let's Get Wet!, 09/26/02
NOW-RAMP researchers are documenting the diversity and abundance of sea life in the Northwestern Hawaiian Islands so that we will have the knowledge needed to better manage these islands for future generations. Let's go underwater and see what they are seeing. (21.4 in MPEG-4 format: get Quicktime 6 to play it.)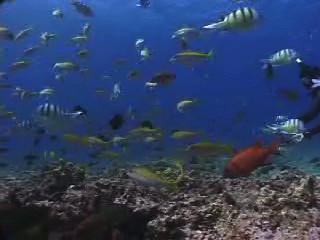 This video was developed by Bishop Museum as part of the
Exploration Program, an educational partnership with NASA.